Why did Sunshine Coast locals set up a roadblock to defend their drinking water from clearcutting? For two months, they stood up against private land logging in Chapman Creek — the drinking water source for almost all Sunshine Coast homes. The Regional District opposed the logging in the community watershed, but there was nothing they could do to protect the community's drinking water.
Demonstrators were forced to stand down after a court injunction and the watershed was logged. Data from the Regional District linked the logging with increased water turbidity — dirty water. A review of the logging conducted by the Managed Forest Council found that while the logging did not contravene regulations, "industry standards for protecting water quality had not been met" and logging was not conducted with the sensitivity required. 
Please speak up for much-needed changes to the Private Managed Forest Lands Act today.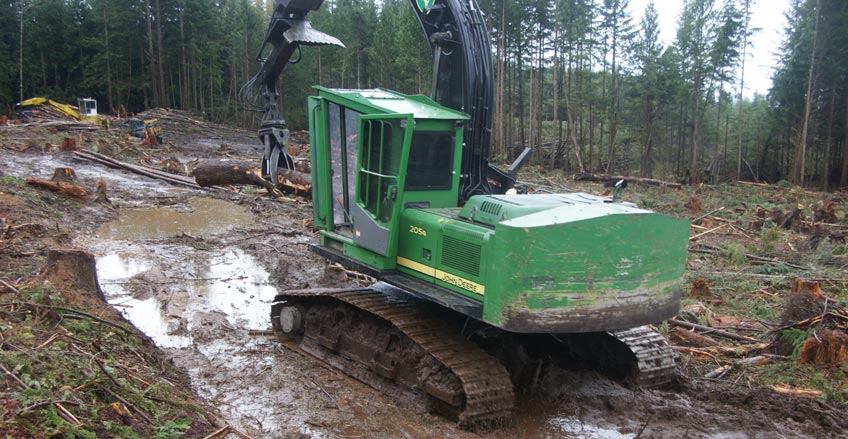 Clearcutting on private land in the Chapman Creek drinking watershed. Photo: Ross Muirhead
The lack of regulations for private land logging has shifted the burden to communities, forcing British Columbians to pay the price for lax provincial rules that let big companies claim tax breaks after clearcutting vast areas. Water, wildlife, and community recreation suffer in community after community when private land logging destroys forests. The Union of BC Municipalities (UBCM) has passed 15 resolutions dating back to 1991 asking the province to reform private land logging regulations, yet no real action has been taken.
Landowners get very substantial tax breaks for registering property as a private managed forest. Big, corporate landowners who benefit from these tax breaks can liquidate forests with little concern for wildlife, water, or local communities.
We should not have to fight to protect our watersheds against private clearcuts. Tell Forests Minister Katrine Conroy that the Private Managed Forest Lands Act needs to be fixed today to stop private clearcuts and protect our communities.